The Clute Police Department
Proudly Displays These Internet Awards
We Have Received From
Patriotic Citizens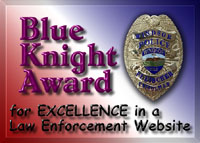 The Blue Knight Award Of Excellence
The Internet's Most Honored Law Enforcement Award
Presented To The Clute Police Department
By Ron Fleischer Of The Windsor Colorado
Police Department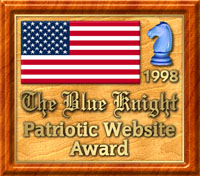 The Blue Knight Patriotic WebSite Award
One Of The Internet's Most Honored Patriotic Award
Presented To The Clute Police Department
By Ron Fleischer Of The Windsor Colorado
Police Department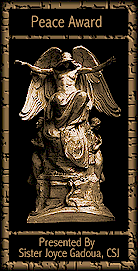 The Clute police Department
The Following Information Is Reflected On Sister Joyce Gadoua's
WebSite As A Description of The Clute Police Department's WebSite
Proudly designed by George Crofton who was a November '97 winner of this award, you don't want to miss this new site. It contains the ten grave errors that prove deadly to experienced policemen, beautifully rendered patriotic graphics free for your taking, a page on children who have been killed and what we can do to prevent further killings, links to support groups for families who have lost children, the FBI Homepage, and definitely not to be overlooked is the American Police Hall of Fame. Go there and take a minute to send an e-mail to Chief Wicker about this exceptional site. Makes one feel a little safer tonight.

The Golden WebPage "American Warrior" Award
is presented to the men and women of the
Clute Police Department, on this first day of March 1998.

This award is only a small token of my appreciation
for your unselfish dedication to the United States of America
May God bless and protect each of you.
George P. Crofton
Master Sergeant, US Air Force Retired
Lake Jackson, Texas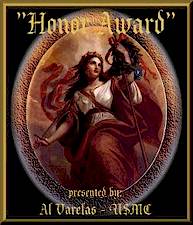 To all whom this site shall come
Greetings
Know ye, that I, confiding in the outstanding
PATRIOTISM - LOYALTY - INTEGRITY
of
"Clute Police Department"

do as of this date, 1 March, in the year of our Lord
one thousand nineteen hundred and ninety eight
and of the great Independence of the
"United States of America"
the two hundred and twenty second year
bestow upon the above named "Patriot" with
great pride for the exceptional display of
"Outstanding Patriotism"
this Award

Presented by:
Al Varelas - USMC
Decorated Vietnam Veteran
26th Marine Regiment
Khe Sanh Combat Base
Republic of South Vietnam

Know ye all who preview this presentation,
that this Award is conferred upon True Patriots only
Be it also known that this Award is given at the discretion
of it's originator, or by recommendation of a recipient,
and cannot be applied for...

Congratulations and enjoy your award Patriot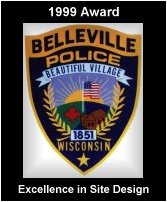 Presented To the Clute Police Department
By The Belleville Police Department Chief Of Police