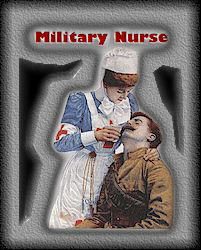 Angels in uniform and
American Patriots
Who Participate Actively
In Peace And War.

Military nurses corps officers have contributed significantly to
America's effort in all of its wars and have made great sacrifices. The
list of heroic deeds and outstanding accomplishment of women in the
Army, Air Force and Navy Nurse Corps has yet to be told. Their deeds
reflect great commitment to service, love for their Country, for their
fellowman, for fellow Americans and for freedom.
I dedicate this graphic to Lt. Virginia Babb Marin
(former US Navy Nurse) and to all that served
to save and to heal our members of the United States Armed Forces.
We owe you so much . . .
space