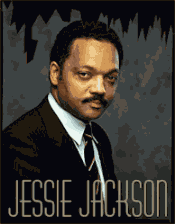 One sacrificed HIMSELF for the PEOPLE.
The other sacrificed the PEOPLE for HIMSELF.

One is a TRUE KING,
The other is a want to be KING.

One is an ETERNAL FLAME,
The other is a fading reflection of the ETERNAL FLAME.

One fills my heart with PRIDE,
The other makes me NAUSEOUS.

LONG LIVE THE KING AND MAY GOD BLESS HIM.
"MARTIN LUTHER KING JR."